Front Door Decorations
It's that time of year again, pre-holiday preparations. It's only September, but in a mere thirty days, the U.S. will be full speed ahead in the holiday season of October, November, and December. Each month has its share of holidays, and respective decorations. The front door is prime real estate for decor, the most popular being the wreath.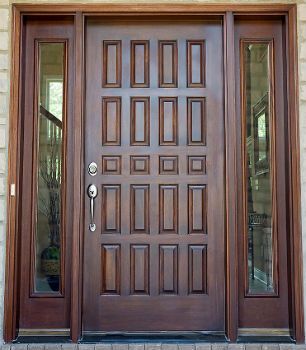 Crafted from the fall harvest's left overs, wreaths come in a variety of shapes and sizes. Classically, the wreath is a circle between twelve and eighteen inches in circumferences. For October, the wreath typically is made from straw and has a variety of fall vegetables and fruits (real or otherwise) attached. The wreath is placed on the front door, brightening the early evenings and alerting the neighbors and passersby that the home is embracing the fall season.
For those that participating in trick or treating, a wreath can hold Halloween-influenced objects, like mini jack-o-lanterns and candy corn.
November brings Thanksgiving. Front door wreaths for Thanksgiving are darker than the October/Halloween variety, with classic colors including burnt orange, brown and burnt yellow. The size remains the same, although additional decorations can be added to a wreath to make it more holiday-centric.
In December, wreaths shine bright with red, greens, and blues, symbolic of Christmas and Hanukkah. Some use battery-operated lights to add actual lighting their front doors, while others use ornaments and winter flowers. Regardless of the holiday, wreaths are a great way to beautify your front door, if you're on a design budget, you can use the same wreath throughout the Season and just change the decorations for each month or holiday you celebrate.