It's that time of year again, pre-holiday preparations. It's only September, but in a mere thirty days, the U.S. will be full speed ahead in the holiday season of October, November, and December. Each month has its share of holidays, and respective decorations. The front door is prime real estate for decor, the most popular being the wreath.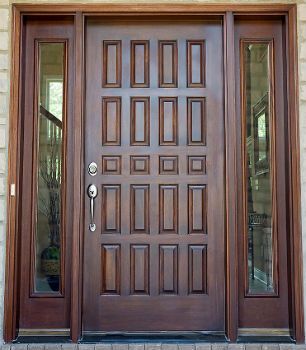 Crafted from the fall harvest's left overs, wreaths come in a variety of shapes and sizes. Classically, the wreath is a circle between twelve and eighteen inches in circumferences. For October, the wreath typically is made from straw and has a variety of fall vegetables and fruits (real or otherwise) attached. The wreath is placed on the front door, brightening the early evenings and alerting the neighbors and passersby that the home is embracing the fall season.
For those that participating in trick or treating, a wreath can hold Halloween-influenced objects, like mini jack-o-lanterns and candy corn.
November brings Thanksgiving. Front door wreaths for Thanksgiving are darker than the October/Halloween variety, with classic colors including burnt orange, brown and burnt yellow. The size remains the same, although additional decorations can be added to a wreath to make it more holiday-centric.
In December, wreaths shine bright with red, greens, and blues, symbolic of Christmas and Hanukkah. Some use battery-operated lights to add actual lighting their front doors, while others use ornaments and winter flowers. Regardless of the holiday, wreaths are a great way to beautify your front door, if you're on a design budget, you can use the same wreath throughout the Season and just change the decorations for each month or holiday you celebrate.
The economy is bouncing back, but that doesn't mean you're ready to put down serious cash for a full remodel of your home. The good news is, you don't have to. Here are three easy ways to change your door and keep your hard-earned cash safe where you want it- wherever that may be.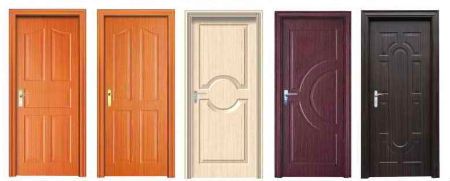 Buy a new door. Yes, we said it would be inexpensive options, and the truth is, many great doors are available at substantially lower prices than even two or three years ago. Look for online retailers with a good reputation for style and durability, what you may sacrifice in style now, you'll save installation and shipping costs. Furthermore, you can select a simple panel door or flush door that is paint-grade to customize the door. Check out www.etodoors.com for a great selection of doors at below retail prices and flat-rate shipping.
Paint Your Door. Before you run out and buy any paint and start brushing away, make sure you know a few key components about your door and the environment in which your door is kept. Wood doors should be primed for painting if they are not already paint-grade. If you are unsure the status of your door, just ask a painting professional at home improvement store. Doors in direct sunlight are going to be more compromised that those with a covering, consider adding an awning to protect your artistic endeavors.

Add a Door Decoration. A wreath, stained glass, or other design components are easy additions to your door that can be changed seasonally or at your leisure. Check out our blogs for more ideas on how to use wreaths for seasonal decorations that should be under $50.
You don't have to spend your savings to change your entryway, look through magazines and around your neighborhood for simple and inexpensive ways to update your home.
Locks haven't seemed to change much since the creation of the deadbolt. You have the standard bottom lock, and the very common deadbolt lock which is typically located above the bottom/entry lock. Absent misuse and normal wear and tear, these two combine for a very simple way to secure your home. Here are the top three ways to use a classic locking system for your front door:
Deadbolt. As discussed above, the deadbolt is a standard for most old and new builds. The solid metal bolt moves horizontally from the inside of the door to the inside of your door frame, this does not make the entryway impenetrable, but it does make breaking into your home more time-consuming, which is always a deterrent for thieves.
Mortise lock. Unlike the deadbolt mentioned above, this lock requires a special prep for your front door. Your carpenter or door manufacturer will create a pocket, officially called a "mortise pocket", and will then slide the locking system into the pocket, securing it with a special locking bolt system provided by the lock manufacturer. The mortise lock is common with commercial door entryways and in aluminum doors, but can be used in wood and fiberglass doors as well.

Trilenium lock. A European-style classic, the Trilenium lock is a complex three-part locking system that is as beautiful as it is effective. The locking points are located along a two foot portion of the door, like the mortise and the deadbolt lock, the Trilenium lock does not make your door impenetrable, but it does add two more locking points that most burglars are not expecting. The installation requires a manufacturer template and an experienced carpenter or door manufacturer to ensure all points match perfectly. Unless you are a licensed contractor or carpenter, the Trilenium lock is NOT a DIY project.